Automatic bunching radish machine
With this automatic bunching radish machine is possible to group the different radish measurements. With this machine you can fully automatically produce radishes bunches with the same quality as those grouped by hand.
Radish bunching is labour-intensive and physically demanding work, with high labor costs and the sporadic availability of high-quality radish bunchers. Therefore, we have this completely new and very high-quality automatic bunching radish machine.
The automatic bunching radish machine is very easy to use and you can pack the radish in a good working position from behind the machine, which saves a lot of time and labour. It is very suitable for the radish grower who wants to focus on the future. With this machine it is possible to effectively bunch 4000 bunches of radishes per hour, so that the throughput time of the radishes to be grown can be accelerated. The results are excellent. The production costs decrease by more than 50% compared to the conventional method of radish bunches. The machine is available in a 9, 12 and 14-row electrically driven version. The harvesting distance between the rows is at least 11 cm.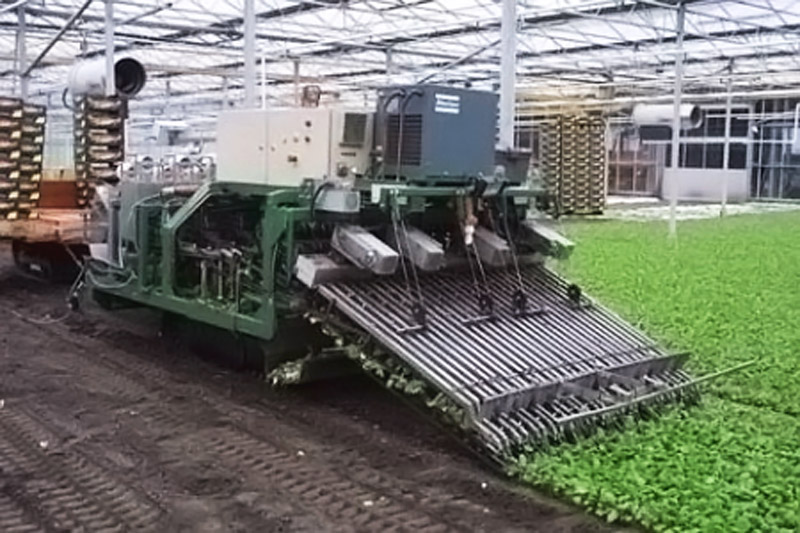 Suitable for the radish grower looking to the future
Best results
9, 12 and 14 row layout
Distance between rows 11 cm
Electric Pneumatic Drive

Capacity 4000 bunches per hour

Great savings on labor costs (>50%)

Fully self-driving

Setting using Touchscreen

Bunches with a superior quality
Contact us to request information