Limex T1500E crate and tray washing machine
Cleaning your crates with the Limex T1500E crate and tray washing machine ensures they meet the strictest hygiene and food safety requirements, and is guaranteed to contribute to the healthiness and quality of your product. It reduces the risk of contamination and immediately results in less spoilage and higher net yields. After all, inputs such as raw materials, energy and labour have already been used.
The Limex T1500E crate and tray washing machine can help eliminate the problem of transferring disease through contaminated crates and trays. A heavy-duty pump circulates heated water and washes containers from all angles through pressure nozzles located above, below, and on both sides. Detergents can also be mixed into this main wash to add even more cleaning power. An easily removed drawer houses the screen for larger particle trapping. This stainless steel unit with variable speed conveyor is capable of cleaning and disinfecting up to 600 trays per hour. It can also be used almost anywhere and is fitted with built-in forklift pockets for easy transporting.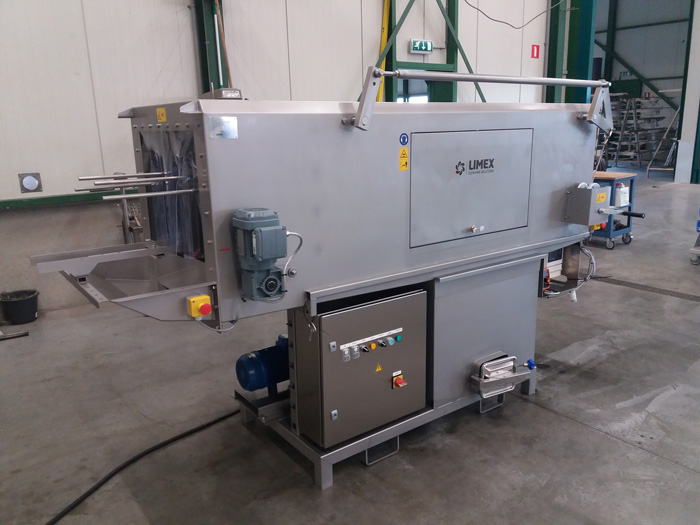 304 stainless steel construction
Easy-to-clean, stainless steel sliding drawer filter
High-pressure spray nozzle lines on top, bottom, and sides of tray conveyor
Water level controlled automatically by an electric valve
Separately controlled after-rinse section water bars. Non-recyclable disinfectant can be injected into after-rinse water supply in the standard machine
Automatic tray in-feed and out-feed conveyors
In-line disinfectant spray chamber with recycling drip-pan conveyor
In-line tray-drying blower
Automatic clean tray stacking unit
Larger capacity machines to increase through put or wash larger crates
Water heating with a heat exchanger or steam
High temperature wash up to 176°F
Crate/Tray size capacity
53,34 x 35,5 cm (W x H)
Processing speed
Up to 600 plug trays per hour
Power requirements
220VAC, 3 phase, 100 A
Water tank
386 L with low level protection
Dimensions
2,9 x 0,9 x 1,6 m (L x W x H)
Contact us to request information