Limex TECO crate washing machine
With the Linmex TECO crate washing machine you will get a nicely priced and good quality machine, satisfying the growing market demand for such a solution. We have several models from the standard machines to the custom manufacturing.
More and more companies are recognising that clean re-usable packaging and storage material is essential and is not simply a case of appearances. However, an industrial washing line is not always a viable option. In order to offer an effective solution, we have applied proven technology and experience to develop a basic machine guaranteeing good results. A machine which we are proud to call a Limex.
How does it work?
The Limex TECO crate washing machine is prepared to wash plastic trays such as those used in agriculture and is made of stainless steel (AISI 304). Trays enter with the tray width, with a capacity of 500 trays/hour. The wash time is +/-40 seconds and the speed is adjustable.
In the basic version of the Limex TECO crate washing machine, crates are fed into the washing tunnel by hand and pushed through the tunnel. They are first rinsed in a continuous water cycle, with a final rinse in clean water. A number of options can be added now or later in order to gear the system perfectly to the user's individual needs. The machine capacity is around 250 crates per hour.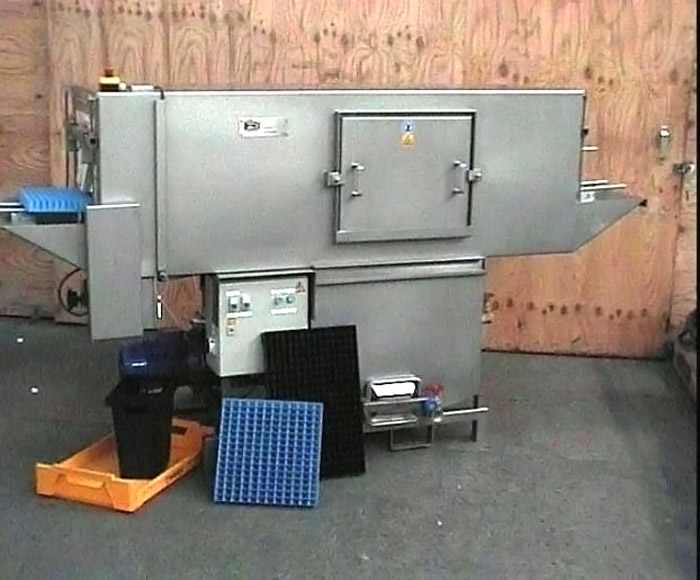 Size

3080 x 900 x 1500 mm
Use

Easy to handle by openings for forklift truck or hand pallet truck
Material

Stainless steel AISI 304
Material control cabinet

Lacquered steel
Upper guidings

Automatic swing system
Side guidings

Adjustable on fixed distances
Emergency stop

2x emergency stop
Washing sections
Main wash with recycled water
After rinse with lost water
Water supply
Floating valve
For both filling tank main wash and after rinse
Content water tank

Appr. 300 l.
Water consumption after rinse

Appr. 250 l/hour
Water pressure at nozzles

Appr. 3 bar
Electrical heating: 2x resistance 8,5 kW (max water temperature 50ºC, not adjustable)

Drive system: drum motor with fixed speed (0,02 kW) or frequency control (0,37 kW)

V-belt
Contact us to request information