Logitec Coco Mill CM200 for coir
The Logitec Coco Mill CM200 for coir has been developed to moisten and break compressed blocks appropriately, providing a solution for substrate growers and large nurseries by rehydrating large volumes of coconut fully automatically. The machine brings the coconut back to its original state with the desired humidity level. The mill gently decompresses the coconut with humidity control and a specialized display and the special screen only releases coconut fiber that is properly processed. The process is carried out at high speed, with a speed of more than 200 blocks of coconut fiber per hour. The Logitec Coco Mill CM200 for coir can feed multiple filling machines at once.
Coir is being used more often in modern horticulture due to the excellent breeding characteristics and good availability of the material. It is thought to be one of the most important growing media of the future. By compressing the material into blocks, coir can be shipped economically worldwide.
Up to now coir processing has been a slow process or carried out using brute force which breaks up the compressed blocks, therefore the fibres can be damage if it does not incorporate the necessary moisture in the coir to decompress properly because proper moisture is required before filling and planting.
The machine can be supplied in various configurations from a fully automatic simple manual system. An optional touch screen control panel will allow you to control the perfect humidity and the possibility to build the recipe. The coconut fiber blocks are automatically filled in the mill with a special pallet lift. The machine Logitec Coco Mill CM200 for coir offers properly processed coconut with maximum flexibility and control with minimal labor.
Advantages of the Logitec Coco Mill CM200
The product can be loaded directly from the transport platform, therefore there is less risk of cross contamination or disease
The machine can be used indoors, allowing production to continue at any time
The material is hydrated before being loosened, which helps maintain the structure of the material
Ability to add additives to coconut fiber and mix in line with soil mix Logitec components
Does not form dust
Low water consumption by recycling back to the factory
The coconut fiber processing line can be used with one person
Can be used for all kinds of coconut blocks
Full service, parts and support available in North America
Compatibility

All sorts of compressed coir blocks with all compression ratios and for all fraction sizes
Capacity

Up to 200 blocks per hour (standar version)
Electrical Use
Standar version: 9kW total
All options version: 19kW
Supply

400 V - 3 phase- 60Hz (other voltages available on request)
Variations
CM200 bulk infeed: For filling with loose blocks by use of a front end loader
CM200 pallet infeed: For filling the CM200 with blocks which are stacked on pallets
Drum with horizontal Coco Mill with carriers and scrapers

Scraper wheel to scrape the wet material from the blocks

Adjustable water level

Sprayers and water pump

2 Screw conveyor for discharge of the processed product

Optional fully automatic version with touch screen controls, moisture level control and programming

Optional hopper for pallet infeed

Optional conveyor belts and hoppers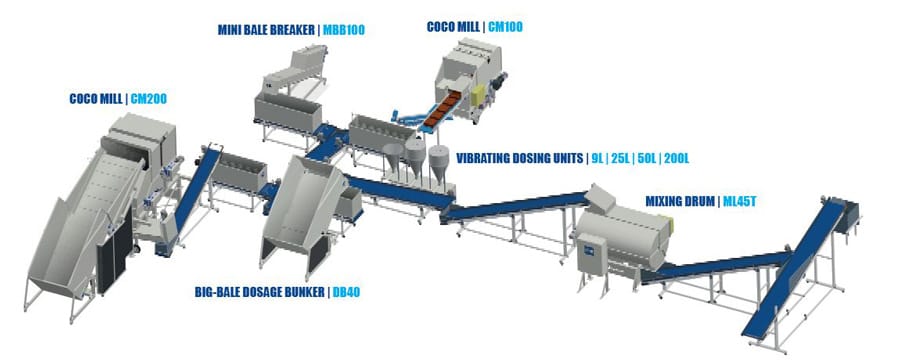 COMPLETE MIXING LINE
You can add the CM200 to a complete mixing line with other Logitec machinery
Contact us to request information